Author: Hailai Shiliang, the coordinator of Bapu Town

Two and a half years ago, I was a teacher of "One village, One preschool" project in our village. It was the happiest thing for me to stay with children every day. I loved them so much. While, since I majored in nursing, I would like to return to my profession if possible. After passing the village doctor examination in October 2018, I became a village doctor and a field officer with my dream achieved.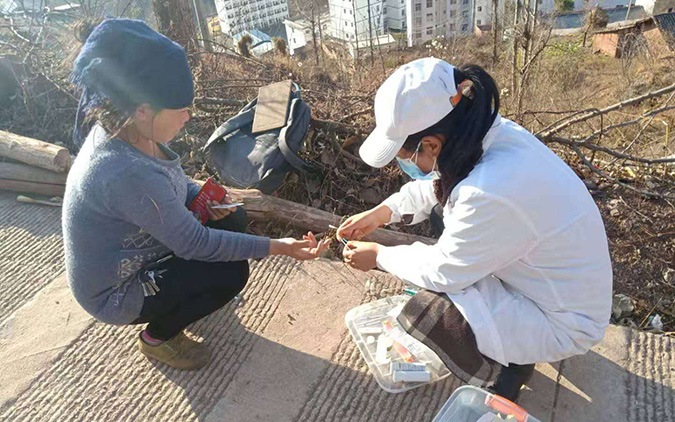 Heard that I would be a field officer, the relatives and friends who are afraid of AIDS hurried to persuade me to quit the job. I know they regard AIDS as a taboo and try to avoid it as far as possible. Especially, more and more persuaders came to me, one after another, trying to tell me that AIDS is still a taboo in village. It was difficult to carry out the job, during which I would encounter many difficulties. Moreover, some of them asked, why didn't I give up my respected job as a preschool teacher to become a field officer.
I thanked their kind words. Even if I know the future work will be hard, especially on carrying out AIDS prevention work, I never regret my choice. I have prepared mentally.
However, I was turned away by the villager when I visited him for the first time, and he even threatened to drive me out if I went here again. I have never felt so frustrated until this job, and it created a very huge psychological gap compared with being a preschool teacher. As an unpopular field officer, I was treated like a virus by the villagers.
After being rejected by the villagers, I walked alone in the village. Suddenly I remembered that my family had dissuaded me from taking up this job, but I didn't believe I couldn't do it well, so I went back to visit another one. The second time was much better. Although the villager didn't drive me out of the house, he avoided talking about anything I asked.
Fortunately, the patience I had with my students made me stick to it. No matter what kind of problems I encountered, I didn't give up or question my original choice. After several attempts, I have found out the principles of getting along with the villagers. When I make a home visit, I have to make friends with them first, and start my work only when they trust in me. At the same time, I need to maintain a good relationship with them.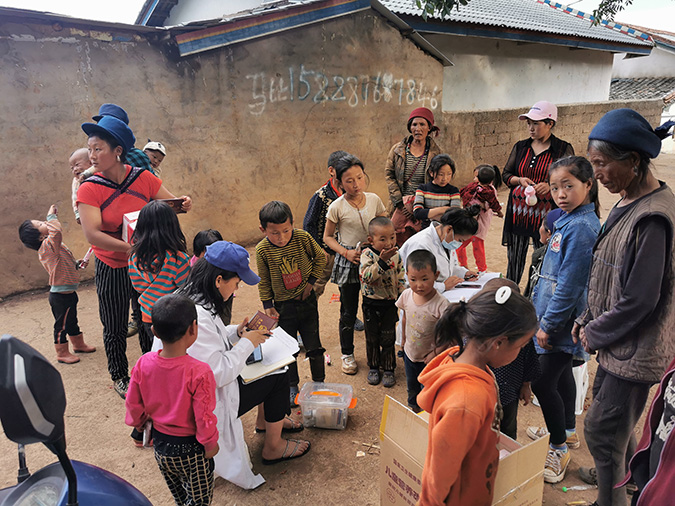 In fact, in the local area, HIV-positive patients are often discriminated against and ostracized invisibly. Just like when my relatives and friends heard the news that I wanted to be a field officer, they turned pale at the mention of AIDS. I know that this was caused by their insufficient knowledge in this aspect. During the works like home visits, or later treatment of HIV-positive patients, the most important thing is to change the villagers' awareness from dread and avoided to moderate and rational, so as to create an equal atmosphere for these patients.
In every quarterly work, in addition to going to 386 homes in the village for AIDS prevention education, testing, antenatal care, and distribution of children's nutrition packages, I will catch the opportunity to talk with the villagers for popularizing relevant knowledge in various occasions. Gradually, the villagers no longer avoided me as they used to.
In idle moments, I also visit the villagers and chat with them about this year's crops and harvest, and their daily life. I conduct psychological counseling for HIV-positive patients to build up their confidence on lives. I hope to create a good atmosphere in the village where there is no discrimination, no alienation, no panic at the AIDS/HIV, and everybody respects each other.
Compared with preschool teachers, the job of being a field officer brings me another kind of growth and fun, and I am so proud of my work.
Project and background introduction:
To boost up efficiency and indogenous power of the "1+M+N" model of HIV/AIDS prevention and control in 10 key townships in Liangshan prefecture, Liangshan Prefecture Center for Maternal and Children Healthcare and Family Planning Service entrusts the Federation for Associations Connected to the International Humana People to People Movement (Switzerland) Sichuan Representative Office to provide technical support to those 10 key townships. The project lasts from July 2019 to April 2020, and one of its key project activities is to screen candidates of potential project officers as Trainers. A series of trainings witness those field officers at the grass roots play a "passing on", "helping" and "driving" role in PMTCT ("pass on" their professional knowledge or skills to other field officers, "help" their work partners by any chance or in any different field and "driving" new field officers).

The project is funded by Liangshan Prefecture Center for Maternal and Children Healthcare and Family Planning Service.
Any views or opinions presented are solely those of the author, and do not necessarily represent those of the donor.