About Us
11 Projects being implemented ...
Reaching 128 Natural Villages
3 Provinces in China
Benefitting:2,800,000 People
New Project:
Email:info@hppchina.org.cn
Media:xuanchuanbu@hppchina.org.cn
Grand Administration:juanziguanlibu@hppchina.org.cn
Partnership:hezuochouzibu@hppchina.org.cn
Tel: (86) 010-84480865
Tel:0871-65169035
Project stories on the 10 Years Anniversary
Humana People to People has been Fighting with The Poor in China for ten years. All the people who participated in this through their hard work are honorable, regardless they worked on the preschool projects, poverty alleviation projects, AIDS prevention projects or the many government partners who supported this work but we are sorry for that we can't invite all people to share their words due to the limited of space and time. However, we will definitely hold our 20 years and 30 years anniversaries in the future.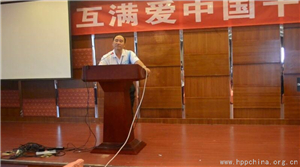 Yang Shuqing (Secretary of Zhenkang County Poverty Alleviation and Development Office in Lincang City, Yunnan)

Secretary Yang reviewed the local changes, achievements and the current situation in Zhenkang, since the Comprehensive Poverty Alleviation Project ('CPAP) and preschool project have started in 2008. At this moment, Zhenkang has the positive attention from enterprises, foundations and internet, for instance, the 'Community Hero' TV crew came to film the project in Zhenkang, and thereafter many individuals and charity groups became concerned and supported the project. According to statistics, more than 20 charity groups came to visit Zhenkang, and they understood that the project gets positive evaluation from the rural mass.


Luo Ruhong (Project leader of Zhenkang CPAP Project)

Luo is a senior employee in the CPAP Zhenkang Project, he explained for everyone how they carry out the project specifically. "No matter what kind of activity, we firstly organize a meeting in the village to get to know villagers' demands and listen to their opinion, see what they like to develop and for what aspects they might need help to from our project, and then we formulate the project contents".
In March 2014, the conclusion meeting of the 5 year Zhenkang Comprehensive Poverty Alleviation Projects was held successfully. After that, more charity groups paid attention and therefore they got another 3 year preschool contract. Congratulations!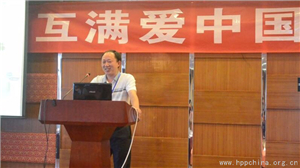 Xiang Shimin (Liaison Officer of Fengdu County Poverty Alleviation and Development Office)

Officer Xiang says "Before the project started, our farmers were not only impoverished but also didn't have their own industry at all. Fengdu Poverty Alleviation Office has established a good cooperation mechanism with HPPC and we invested together for the village development. We have learning system, which means we solicit farmers' opinions and organize farmers to visit other development bases. Through learning, now we have our own walnut planting base and chili planting base. We work based on common interest seeking mechanisms, no matter what we are going to develop, we first call on poverty-stricken households to participate, because our ultimate goal is to lift poverty-stricken households out of poverty."
HPP is very popular among farmers in Fengdu, because HPP always respects the wishes of the farmers and discusses with the farmers. I behalf on Fengdu farmers welcome everyone to visit Fengdu, taken a walk in our 'Ghost Town', you are definitely reaching 99 years of age!


Li Henian (Project leader of Fengdu Project)

Li says "The project in Fengdu is a participatory poverty alleviation project, which means we don't interfere in farmers' aspirations, we follow their ideas, and give them advice, last we decide together how to implement project."
Li shared walnut, chili and black potato planting process and results, these are good cases to tell how we explore together with the locals a way of product development for their village.
After that, Li shared some stories about young people returning to their village. They used to work in big cities, but then returned and participated in and mobilized more villagers to join in the village development, when they heard their own community is developing with HPP-Carrefour's project.
It's very short to develop market products within 3 years, and their sustainability is not yet secured. The villagers are worried that the village would turn back into what it was, when the project leaves. On this new issue, on one hand, we hope more people would pay attention to community development, on the other hand, we need to help villagers to strengthen their confidence, so that they will continuously develop their villages.


Jilie Merezha (President of Liangshan Prefecture Butuo County Women Federation (BTWF))

"Since January 2010 BTWF has cooperated with HPP, such as on [China Merck AIDS partnership] rural women face-to-face education, condom promotion and distribution and , AIDS assistance Project, New Zealand Beijing Embassy HIV project, Total control of HIV/AIDS Epidemic project, Preschool of the Future project etc. We have gained stage wise results, and realized the steady and healthy development of AIDS prevention work.
In the past 5 years, HPP has been very well cooperating with BTWF and reached good result in the rural women HIV/AIDS prevention work, also well recognized by local government and local people. However, this work is very tough and difficult, we need to keep exploring and find out the complete project model for Butuo County. We will keep cooperating with HPP as always, put full efforts to achieve the project goals, and work hard for rural women HIV/AIDS prevention!"


Li Jiancai (Section Manager of Health Project)

The biggest advantage of our health project is that we have rich experience in project implementation, and good collaborative relationship with the local Women Federations. Our TCE model complements the local HIV/AIDS prevention work, we can see the effect is very significant.
Since early 2010 HPP came to Butuo and started HIV/AIDS prevention and control cooperation with the local government, the work focused on rural women, Most of local women are very shy and conservative, considering this we only hired female field officers to work on this project at that moment as interaction from woman to women on HIV issues is more easy. And then, as the project went on, we tried to promote some male field officers to join in this work. Gradually, people are more and more open minded. In order to spread out HIV/AIDS knowledge to everyone, we provide publicity and health education at schools and public squares.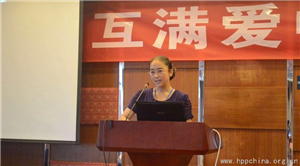 Zhou Qingfang (Deputy Director of Shangri-La County Education Bureau, Diqing Prefecture Yunnan)

Zhou says, "Although the number of preschools [established by HPPC] are limited here (270 children in 10 preschool), the influence on the development of preschool education is unlimited. We have been a part of the project implementation and teacher training etc. Over these years, teachers' working capacity grew a lot, children were fully developed, parents had more positive point of view, moreover, society paid more attention to preschool education in Shangri-La, government propelled the importance of early childhood education, all above these will play a positive role for the development of early childhood education in the future.
Currently, there are still many children in remote rural areas not covered by public preschools, even though with many different types of preschool around. So I hope more eyes could be focused on rural children, especially in Shangri-La."


Luo Rujing (Project leader of Preschool Project)

Luo says, "As a young man working in the preschool project of HPP over these years, I have two very deep feelings. I have seen the changes in the local community, and myself as an example, I have improved a lot and have more passion for my hometown.
I remember that I visited a preschool project which was successfully handed over to the local government in Shangri-La last year. I saw the local government still operating the preschools earnestly. It means that the local government and people recognize our project very well.
We often work closely with government, as a young person, I am afraid I did many things not very perfect before, I still need to improve myself and work better. At the same time I hope government could include and support us young persons more. "