News
11 Projects being implemented ...
Reaching 128 Natural Villages
3 Provinces in China
Benefitting:2,800,000 People
New Project:
Email:info@hppchina.org.cn
Media:xuanchuanbu@hppchina.org.cn
Grand Administration:juanziguanlibu@hppchina.org.cn
Partnership:hezuochouzibu@hppchina.org.cn
Tel: (86) 010-84480865
Tel:0871-65169035
TCE Butuo Ends the Project In A Good Way
Source:互满爱人与人中国官方首页 Time:2017/8/15 View:
Butuo County Women Federation ('BTWF') TCE Butuo is a 3.5 years HIV/AIDS project operating in Butuo County, Liangshan Yi Autonomous Prefecture, Sichuan Province. The idea of the project during the 3.5 years campaign is to achieve total control of the HIV/AIDS epidemic in Butuo County reaching out to a population of 100,000 people. The project does one on one, door to door visits to all villagers reaching out to them with health education, mobilization and voluntary home based counseling and testing. The project furthermore involves a Passionate Network and training of local leaders and influential people who support in information dissemination and mobilization work. Health education provided by the project includes HIV/AIDS knowledge, basic knowledge about STDs (Sexually Transmitted Diseases), mobilizing pregnant women for antenatal care and hospital delivery, providing condoms and explaining condom use to the sexually active singles and couples.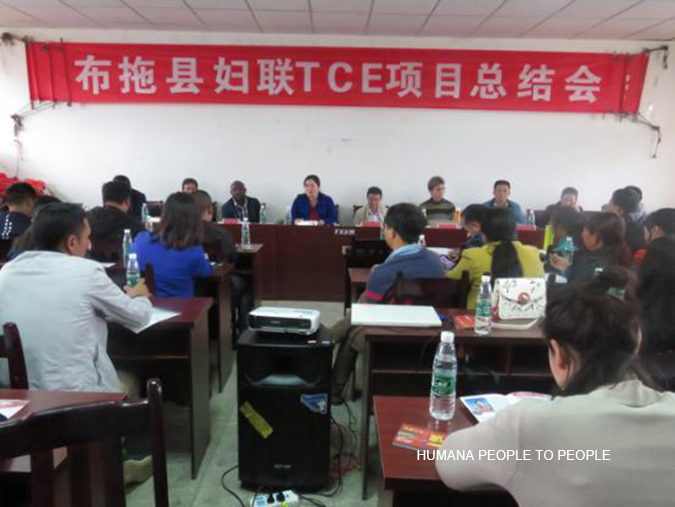 Presentations were made for the 75 people who were gathered for the conclusion meeting.
After operating in Butuo for 3 years it was of utmost importance to finalize and end the program in a good way, to share what was achieved and to hear the views from different people who had supported the project. The project organized a conclusion meeting which was held on the 29th of June 2017. The program started at 14:30 and concluded at 17:30 hours.75 people attended the conclusion meeting. The Guest of Honor was Dr. Gong Yuhan from Liangshan Yi Autonomous Prefecture Association of STD&AIDS Prevention Control. Other people who attended were Jimu Mujia, Zhong Shiyong Deputy Director of Butuo CDC, Li Gang from Butuo AIDS Office, Li Yanchun from Butuo Maternal and Child Hospital, Zhang Xiuying, Vice President of Butuo Women Federation and Siri Holmebakk, Project Director Humana People to People Baltic (HPPB) also present were BTWF Office staff, BTWF township key women, TCE Butuo Office staff and Field Officers and 10 Township AIDS Control First Party Secretaries for the government '1+N' TCE project. After the presentation of the agenda the Vice President for BTWF welcomed everyone to this conclusion meeting. The TCE Project Deputy Coordinator presented about the project activities during its 3.5 years running and what had been achieved. He also thanked all the local and prefecture partners for their support throughout the 3.5 years of running the program. During the presentation he also showed a video of the Field Officers doing their work in the field, door to door mobilization, villager training and networking with local hospital leaders in the fight against HIV/AIDS.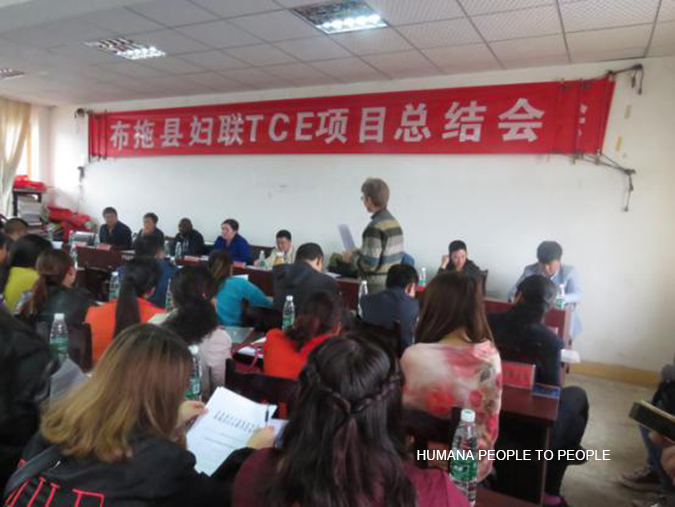 Different leaders made speeches to show the good work which had been done by the project.
Field Officer Jili Ziga presented about his daily work as a Field Officer. He presented his 5 days work routine in spreading and educating the community about HIV/AIDS and mobilizing people for testing.
In his speech, the Guest of Honor Dr Gong thanked BTWF and HPPB for the work which has been carried out in Liangshan in fighting against HIV/AIDS through door to door and one on one visits. He also expressed concern about drug users and said that those who work in the field of health should consider and look into this issue. He went on to say because of the good work which had been done by the TCE project, the TCE model will be adopted by the Prefecture Health Bureau and be used in the [1]'1+N' project whereby 20 model townships in Liangshan will engage village level community health workers to do house to house and one on one health education and HIV test mobilization. Some BTWF TCE project staff will be invited to train all the Township AIDS control First Party secretaries and all those field staff on the proper implementation of the HIV/AIDS prevention and control activities. Butuo AIDS Control Committee Director Li Gang thanked the project for the work done and said that the fight against HIV/AIDS was far from over and wished that the TCE program could continue and that other NGOs should come to Butuo to carry out such work. He said that their objective research showed, that people's knowledge about HIV/AIDS in TCE project areas is higher compared to areas where the TCE program has not operated.
Field Officers were presented with certificates for the outstanding work they had done in the field.
HPPB Project Director Siri Holmebakk thanked different departments, Provincial Health Bureau (PHB), Center for Disease Control (CDC), Maternal Child Health (MCH), AIDS Office and Butuo Women Federation (BTWF) for the good cooperation with HPPB throughout the program implementation period. She also thanked Prefecture level partners for networking well with the project. She then presented certificates to the Field Officers for the outstanding work they had done in the field. She also handed over the names of the Field Officers to different partners for any work opportunities since they had vast experience.
Last to speak was BTWF Vice President Zhang Xiuying who said that BTWF will continue in the fight against HIV/AIDS and in the fight against the use of drugs and to empower the community through their organization. She also thanked those who had gathered for this occasion.After all the presentations all participanats gathered for a group photo.It is clear from the presentations during the conclusion meeting of the TCE project that everyone wishes that the fight against HIV should continue. From the presentations it shows that there is support for the fight against HIV/AIDS and drug abuse to continue.
The project has worked hard in educating and mobilizing thus the community's knowledge and understanding about HIV/AIDS increased. A total of 113 077 people were reached through door to door and one on one mobilization. The Leader of Butuo AIDS Office Committee, Mr Li Gang informed that the knowledge rate about HIV/AIDS in areas where the BTWF project worked are 85-90% compared to other areas where knowledge rate is 65-70%. The primitive beliefs of the community have been reduced and now the community understands how HIV is transmitted and that there is a possibility of getting treatment. Support for the infected and affected has improved because now relatives and friends take a key role in helping those who are infected. The formation of TRIOs (a group of 3 people – 2 who are negative supporting 1 who is positive) has also helped because those who are infected have people who support them in adhering to their treatment plan. Teenagers fully understand about HIV/AIDS and this half year of 2017, 3,999 teenagers were tested with 44 being found positive and referred for further tests. In regard to hospital delivery and antenatal care from Maternal Child Health Hospital in Butuo we know that the hospital delivery rate in Butuo has increased from 55% to 75% over the last 3 years.
[1] 1+N-a model of an HIV/AIDS program to be carried out in Butuo. (1 is the township secretaries and the township hospital leaders and N are the Field Officers e.g village doctors, village secretaries, village leaders etc)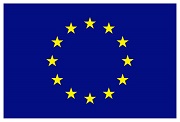 This project is funded by EU and HPP Baltic.
This publication has been produced with the assistance of the European Union. The contents of this publication are the sole responsibility of the BTWF TCE Butuo project and can in no way be taken to reflect views of the European Union.
【Previous Bringing in New Ideas to Reduce the Use of Chemicals 】【Next Joys of Being a POF Teacher 】