News
11 Projects being implemented ...
Reaching 128 Natural Villages
3 Provinces in China
Benefitting:2,800,000 People
New Project:
Email:info@hppchina.org.cn
Media:xuanchuanbu@hppchina.org.cn
Grand Administration:juanziguanlibu@hppchina.org.cn
Partnership:hezuochouzibu@hppchina.org.cn
Tel: (86) 010-84480865
Tel:0871-65169035
Joys of Being a POF Teacher
Source:互满爱人与人中国官方首页 Time:2017/8/24 View:
"The real name for Little Lulu(Xiao Lulu) is Guo Shaolu. He is one of the students in my class. When he arrived at the school I immediately noticed that he was not willing to participate in any activities. He never took the initiative to talk with others. Based on his eccentric character, I gave myself time to careful observe. From my observation I noticed that he lives close to the mountains and that there is no chance for him to meet with other children to play and he had little contact with strangers except his own family. I also noticed that he had just arrived to this group of people, teachers and children who are totally unfamiliar to him. Being a shy boy it also made it more difficult for him to adapt. He did not understand how to integrate into the new group, how to get along with other children.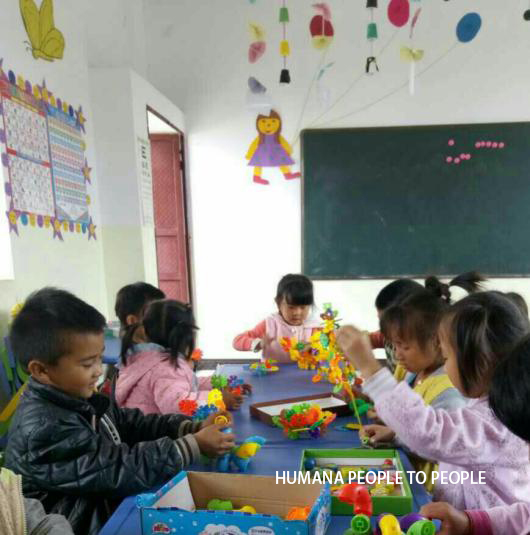 Dialogue and playing games is very important because children have opportunities to express and communicate their emotions
When we started school Little Lulu was always sitting by himself staring right in front of him. One day, I saw him sitting in the same position, and I went over and asked him, "Little Lulu, do you like preschool?" He opened his eyes wide, shook his head, and said in a childish voice, "I don't like preschool. I like to stay at home." After he said this I did not say anything but left him like that. The first thing I wanted to do was to get close to him. I would let the other children initiate some play with him. I often made some time to chat with him. I told him children' stories and used topics mostly from children's cartoons. Little by little, Little Lulu was attracted to these little secret moments we shared and he started to open up and was happy to chat with me. I invited other children to these chatting moments and they could in turn tell stories. From there on I made them invite to play and little by little he joined other children in playing games. Now he is a lot better in playing games with other children. Little Lulu now takes the initiative to invite other children to play. It is good to see him chatting and laughing together with other children. He has changed into a lively, cheerful and enthusiastic little boy. Every time I see him playing with other children I cannot help smiling. My heart bursts with pride.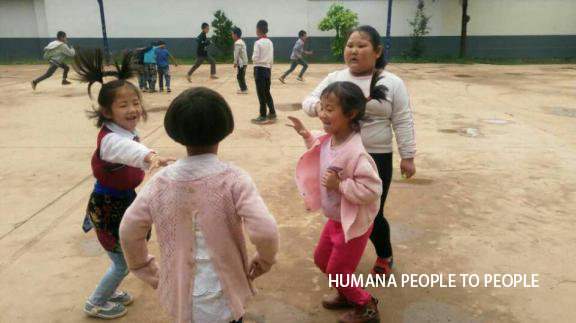 Interacting with peers helps children develop self esteem and confidence.
From this experience with children I realized that it is important to pay attention to the development of children's social ability. Only when children interact with their surrounding environment can they develop and that communication with other people is also an important element. Communication is the basic need for children. From childhood, children have a strong tendency to seek out partners with whom to socialize, which reflects signs of sociability. At this stage, communication is also vital because it can effectively promote the development of children and plays an important role in the development of children's personality, emotions and intelligence. Communication between peers is also one of the important ways to promote children's personality development so it is good to encourage peer to peer activities and interaction. This also helps the children to develop humility, friendliness, confidence, and how to cooperate with others. Peer interaction plays a decisive role in the quality of the formation and development of children's healthy personality. Secondly it establishes contact to promote children's good emotion. In some games children play different social roles such as being doctors and patients; drivers, salesmen, teachers, etc. and through such roles they experience the roles of social responsibility."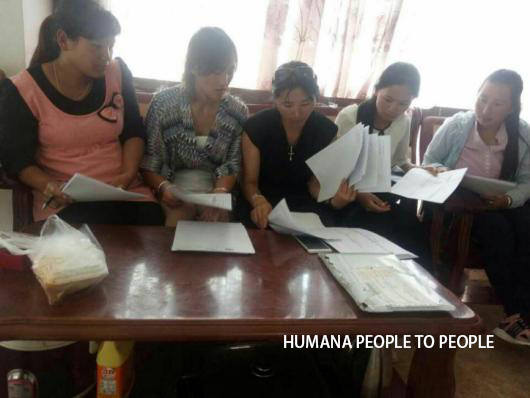 Teachers have time to discuss and share experiences on how to improve more in teaching preschool children.
POF teachers are recruited from within the rural communities and they are trained to teach and take care for rural preschool children. POF teachers have an influence which will last the rest of the children's school life. When the children come to preschool for the first time, with their minds empty of knowledge and skills POF teachers take them through the process of learning and understanding things, the universe, nature, living and non-living things around them. POF teachers help the students to feel that they belong and are welcome. POF teachers build a bond with the children fostering self esteem in them and motivating them. The teachers help the students to feel that they belong and are welcome. The teachers provide preschool children with responsibilities such as cleaning the classroom, making their beds, arranging the classroom through which they perceive themselves as contributing and making a difference. The teachers also give the children opportunities to make decisions and solve problems. They are good at interacting and learning together with the children. The preschool teachers develop a new generation of thinking individuals. Children are also taught about health and hygiene and practical activities such as brushing their teeth, washing their face, washing their hands after using the toilet which makes them aware of the importance of taking care of health. The teachers also create a bond between parents and children where they organize different activities at the preschool and then make some games which involve both parents and their children. They use different strategies in developing preschool children. They touch lives everyday and they enjoy watching their students grow up and flourish. POF teachers have passion for their work and love the small children.
A brief summary of the project:
The project is developed in cooperation with China Merchant Charity Foundation. The partner aims at strengthening the Self-organizing capacity of the rural Poor. The project was introduced to county government in June 2014 and the needs assessment was done in July 2014. The training of staff started in October 2014 and the first 5 POF classes opened in November 2014. Currently the project runs 9 preschools covering 200 students.
The purpose of the community preschool project is to prevent poor children from becoming poor adults. The preschool classes are established in natural villages in remote poverty stricken areas. Closed down spot schools or other rooms are renovated as classroom. The preschool teachers are recruited locally and trained on the job. Parents' committees are established. By attending preschools the children are better prepared for primary school. Beside the traditional school subjects the children learn about nature, animals, nutrition, hygiene and how to express themselves through arts and music. The children are from 3-6 years.

This POF project is funded by China Merchants Charitable Foundation (www.cmcf.org.cn)
Content in this article reflects only the views of the authors and not those of the funder.
【Previous TCE Butuo Ends the Project In A Good Way 】【Next HUMANA PEOPLE TO PEOPLE Movement (Switzerland) Sichuan Representative Office Registered Sucessfully 】