News
11 Projects being implemented ...
Reaching 128 Natural Villages
3 Provinces in China
Benefitting:2,800,000 People
New Project:
Email:info@hppchina.org.cn
Media:xuanchuanbu@hppchina.org.cn
Grand Administration:juanziguanlibu@hppchina.org.cn
Partnership:hezuochouzibu@hppchina.org.cn
Tel: (86) 010-84480865
Tel:0871-65169035
Notes for AIDS control field officer
Source:互满爱人与人中国官方首页 Time:2017/12/15 View:
After more than one hour's walk, we finally reached Naituo town, Yuexi County, the village we planned to visit today. The weather in Daliang Mountains changed quickly. It was warm at last moment but got windy and cold at next moment. It was raining heavier and heavier and blowing harder and harder.
It began to rain when we just arrived at the village, and Farmers who worked on the farmland were running home then. AIDS control field officer Jianai Muxia came to a farmer's house in the rain. From the host's appearance, we thought that he was more than 30 years old. Besides him, his two children were also at home, but the hostess was still working on the farmland and hadn't come back. AIDS control field officer Jianai Muxia communicated with the host and explained our visiting purpose and taught him health care knowledge and the prevention and control of AIDS in Yi language . The host asked the AIDS control field officer that he had hard bumps under his armpit and sore throat, but he didn't quite clear what the hard bumps were. Doctor told him he had lymph node enlargement. He initiatively showed me medicines he normally took. I knew he was an HIV-infected person once I saw them. According to the information I got, he had been taking drug therapy for two years, and he was also infected with hepatitis. He confessed that his infection was caused by taking drugs when I asked him the reason of his infection. He always saw his elder brother and his friends who were also taking drugs took drugs together when he was in his teens. He was so curious and then had drug addiction. Even more unfortunately, he adopted drug injection. He knew nothing about AIDS hazards. Meanwhile, he didn't know his elder brother had had HIV infection, and he used the same needle to inject drugs. Then he was infected with HIV. His elder brother passed away last year. When he had HIV infection at the beginning, he thought he caught a cold with symptoms like cough, headache and lymph node enlargement. He knew the fact that he had HIV infection when he received treatment in hospital in the county. He always felt tired and dizzy when he took medicines for treatment. After understanding his situations, AIDS control field officer Jianai Muxia taught him ways to take preventive measures with his family and avoid them were infected. Jianai Muxia also provided him with condoms and taught him correct usage. What's more, he also urged the host to pay more attention on environmental health and eat more nutritious food but not drink alcohol, smoke or take drugs. He encouraged him to be strong enough to face real life and live his life for his family. The host felt grateful for that and nodded repeatedly. He told us he would do and prevent accordingly. He didn't take drugs presently and his family was too poor to afford his drug taking. He regretted very much for what he had done and the hurt brought by taking drugs, which also brought harm and poverty to his family. He was work-disabled and thus his wife was the only one who could work to support the family. We originally intended to carry out AIDS test for his wife. However, she hadn't come back until we left her home. AIDS control field officer planned to come back again and test the host next day to ensure the whole family taking further preventive measures.
It was still raining. Our AIDS control field officer continued to visit villagers and conduct AIDS control propaganda door by door in the rain.
Agenrixia, the leader of TCE project, is conducting propaganda with villagers.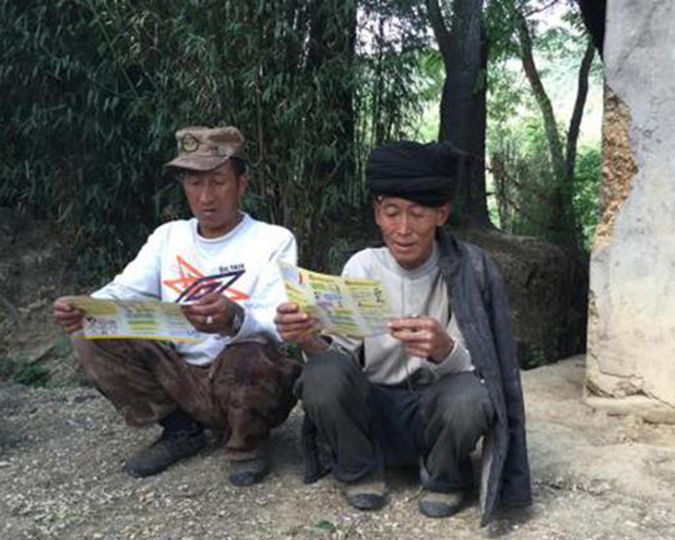 Villagers are reading propaganda materials issued by TCE project.
Project Introduction:
The story of this case comes from "the project of promoting the expansion of HIV test in high prevalence areas in Liangshan Prefecture" which is supported by Chinese Association of STD and AIDS Prevention and Control. Yuexi County is one of nine high prevalence counties in Liangshan Yi Autonomous Prefecture, Sichuan. To prevent and control the spread of AIDS in local area and support national objectives of Three 90%, namely, 90% infected persons know his infection status via test, 90% diagnosed infected persons receive antiviral treatment, and the virus of 90% infected persons who receive antiviral treatment are inhibited, in April 2016, Humana People to People carried out "Chinese social organizations participate in the construction project of AIDS prevention and control project" (also called "comprehensive control of communicable diseases project") supported by Chinese Association of STD and AIDS Prevention and Control. The implementation period of the project is 12 months. Led by one project supervisor of Humana People to People, eight basic-level AIDS prevention and control staff (also called AIDS control field officer) carried out AIDS prevention and treatment propaganda by visiting villagers door by door and village by village and provided on-spot fast test service to villagers in Matuo township, Darui township and Naituo town in Yuexi County.
The project is supported by Chinese Association of STD and AIDS Prevention and Control.
This article only represents the author's viewpoint but not the donor's viewpoint or position.
【Previous Liangshan Yi Children health and Hygiene Project Holds Closing Meeting 】【Next Third External Thompson Reuters Foundation article is featuring DAPP Zambia's DNS Mkushi College of Education 】