Author: Luo Qinglin, Manager of Puge Community Development Project

Do you still remember Heiri, a 14-year-old boy who was taken by our project coordinator to the hospital in Chengdu and came back with hearing aids?
What about his condition after being examined and wearing hearing aids? Let's go to his home and have a look.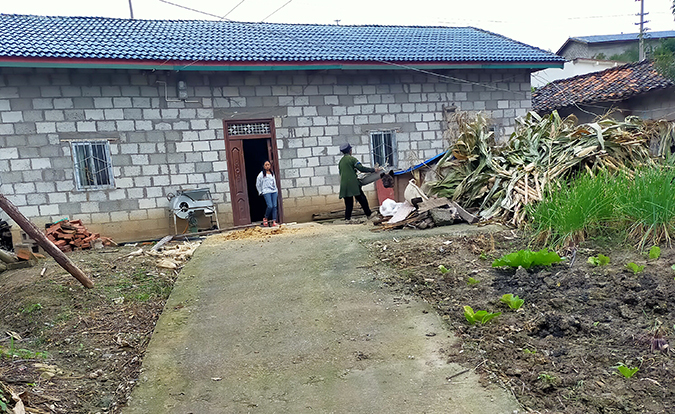 As usual, we prepared to go to Heiri's home to see him, but the sky was dark and drizzled, and the road we had to pass was drenched with rain. As all the vehicles were blocked because the road was under repair, we had to get off and walk.
Aftermore than half an hour, we arrived at Heiri's home. While we entered the gate, his dog noticed us in advance and barked at us. Hearing the barking, Heiri's grandma immediately went out to see what was going on.
"Oh, it's you who are here. I'm cutting some pigweed. Our house is messy because I haven't cleaned it up for a while. But if you feel OK, come in. Heiri is at home." Grandma in her 70s said, opening the back door and leading us inside.
"Eh...where's the kid? He was just at home." Without seeing her grandson, Grandma explained.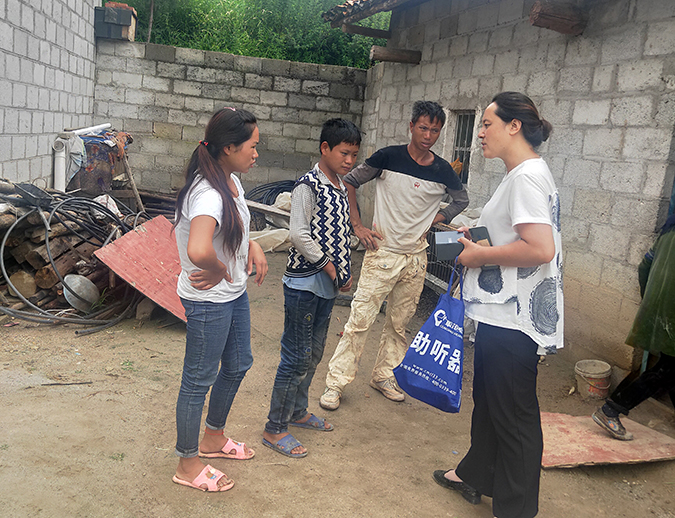 Just as we were looking around, there came giggles from under the table.
I went forward and bent down to see that Heiri was under the table, covering his mouth and laughing. It turned out that he knew that we came here, so he deliberately hid under the table to play hide and seek with us.
I helped Heiri out from under the table, and he stood beside happily listening to us talking to grandma. It seemed that he heard it all and smiled.
Grandma looked at him and said, "See? He is wearing the hearing aids you have given, so he can hear us."
He couldn't hear or speak until he wore the hearing aids. Since he came back with hearing aids, his grandmother, his sister, and we had also come to help him adapt to the situation and practice listening and speaking. At present, he can basically understand, but can only say some basic words.
We tried to teach him to say simple words like "Ama," "Zhaze," "Ada" (means "grandma", "eat" ,"dad" in English). Heiri was a bit shy at first, but gradually he had confidence to say these words. After several attempts, he followed us and said these words precisely.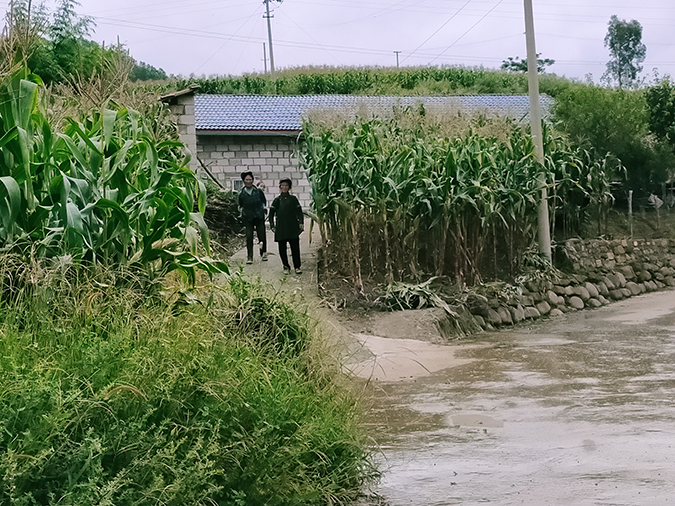 The neighbors who had just passed by said, "Oh! Speech-impaired buzhi. (its meaning in English: the mute can speak)"
The grandmother looked on and said happily, "The boy has learned to talk more. His sister boards at school, except the weekends. Whenever she comes home, she will teach him to practice speaking. I am too old to take care of him. Besides, I don't have too much time because there's lots of family stuff, let alone I have nothing to teach him. It's a good thing your colleagues of the project team have constantly come to visit and look after Heiri."
Heiri's grandma said in a tearful voice. Then she added, "it is because of you that Heiri can hear and speak. Please send my "kasasha" (means Thank you) to all the people who have helped Heiri. "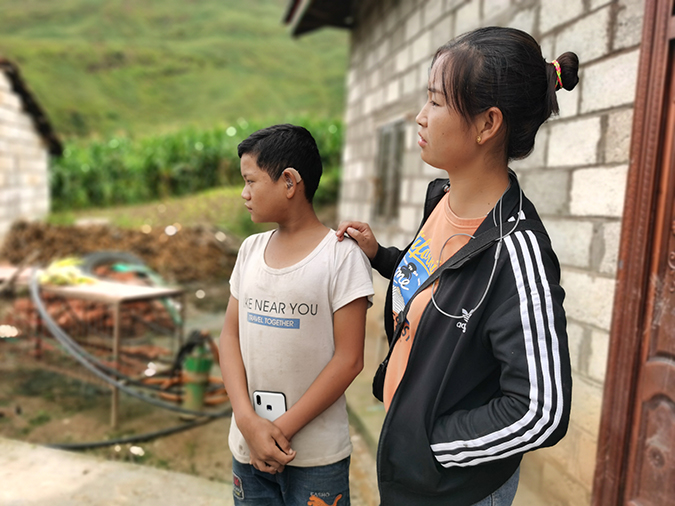 Sure enough, Heiri is so lovely as ever. Wearing the hearing aids, he seems to open a new door to the world, leading him to slowly explore the beauty of the world.
He still has a long way to go, but there are a lot of people who care and love him, we all will any time accompany him to grow up. Heiri, I hope you to keep going. Practice listening and speaking slowly, then time will bring you some gains.
Project Introduction:
Tackling Childhood Malnutrition: Rural Development for Underserved Yi Community in China is funded by Baxter International Foundation. It aims to improve awareness of health, nutrition and hygiene in communities and schools, introduce new crops and animal species to increase children's nutrition. Help parents to be aware of children's nutrition, education and care needs, and educate children to foster good hygiene habits. In addition, provide a complete and comprehensive theoretical and empirical evidence to help build children's hygiene habits, optimize local Civil Affairs Bureau's child service quality, and assist the township healthcare center to develop a complete child medical care system.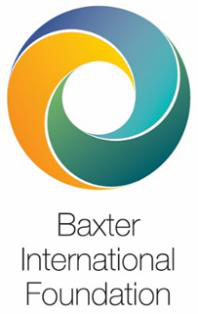 The project is funded by Baxter International Foundation.

The articleonly represents the views of the author and not the views or positions of the foundation. .