From September 18 to 20, 2020, the team of the International HUMANA PEOPLE TO PEOPLE Movement (Switzerland) Yunnan Representative Office went to Shenzhen Convention and Exhibition Center for THE 8TH CHINA CHARITY FAIR (CCF).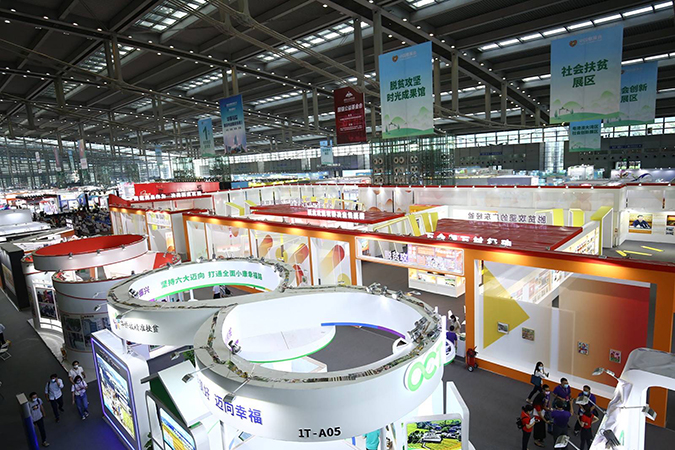 The theme of THE 8TH CCF was "Focus on Poverty Alleviation, Create a Better Life Together". 1,966 institutions and projects from 31 provinces, autonomous regions and municipalities attended, with 1,969 poverty alleviation products displayed on the exhibition. The exhibition includes several sections such as "exhibition and exchange", "seminar and conference" and "resource docking". There are three theme pavilions: the poverty alleviation achievement pavilion, the poverty alleviation product consumption pavilion and the better life experience pavilion. Humana People to People had a booth in the poverty alleviation achievement pavilion.
We introduced to the guests visiting the booth, that HPP was currently carrying out the projects of Preschools of The Future, Community Development, Farmers' Clubs and comprehensive control of infectious disease in Yunnan, Sichuan and Chongqing. Besides, the team members also actively exchanged and learned from other participating organizations. At the same time, Michael Hermann, Chief representative of the International HUMANA PEOPLE TO PEOPLE Movement (Switzerland) Yunnan Office, also attended various seminars and gave a project presentation in a public road show.
On September 19, Michael at the road show presentation focused on The Preschool of The Future, which aims to reduce the intergenerational transmission of poverty through preschool education. It not only emphasized the importance of preschool education to children, but also on its impact to the children's whole family.
Michael's simple and sincere introduction attracted more and more audiences, who thought it was a very meaningful project. After the road show, they came to discuss and exchange with and learn from Michael.
Michael said: CCF is a platform to promote more exchanges and learning in the public welfare industry. In addition to introducing ourselves to more people, we should also learn consciously and actively, and proactively seek for resource docking.
In particular, when we observed the final of China charity project competition, we found that it not only displayed the best charity innovation projects in China this year, with expert comments and promotion, but also provided opportunities for social organizations to exchange ideas and learn from each other.
During the three-day CCF, we learned that different organizations carry out different public welfare projects in different fields, such as education, culture, life, industry, ecology and consumption. The projects in the same field are diversified due to different regions, but all have been committed to those individuals and groups who need help.
Driven by the new era,the public welfare need constant growth and innovation. If we want to go further on the road of the public welfare, we have to promote the development of public welfare projects from various aspects and angles, and finally make great achievements.