Author: Agen Riga

On a day of March, it was a busy and fulfilling day for the Sichuan Liangshan Yi Rural Community Comprehensive Development Project team. Early in the morning, Project Manager Agen Riga and the in-charge of the chicken farm Duan Yuanning drove a truck with over 500 egg layer hens slowly to Luo'en Village. The villagers who waited here for a long time suddenly became excited. The project staff would distribute egg layers to 86 families of newly enrolled preschool children in Shougu Village and Luo'en Village. 6 young egg layers would be distributed for each household.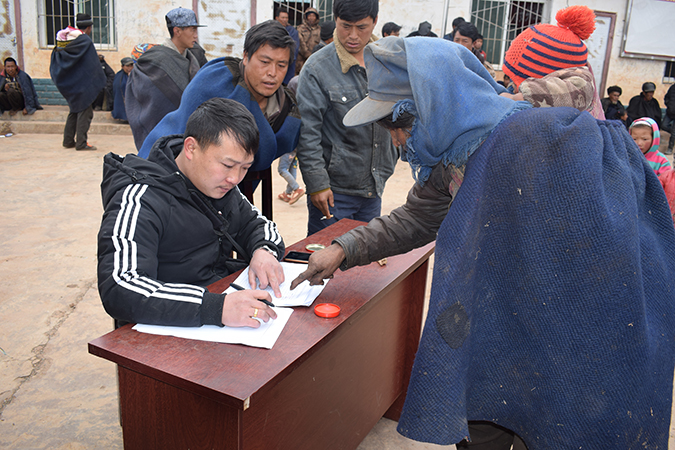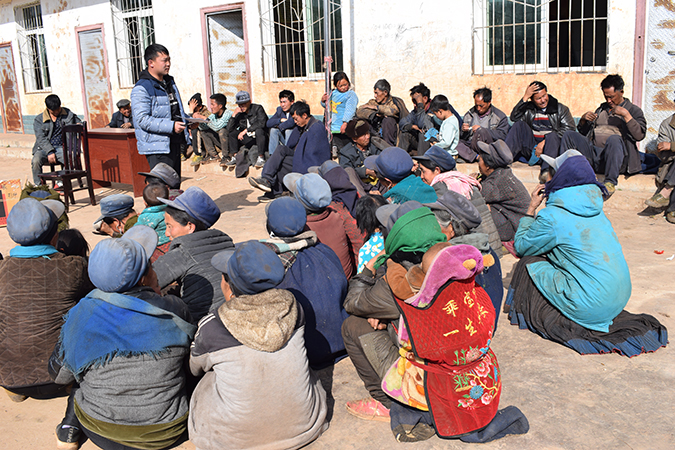 Project Manager Agen Riga providing breeding training to villagers

6 egg layers were distributed for each household

In order to help villagers to raise good quality chickens and enable children to eat eggs as early as possible, project staff organized parents to attend a breeding training before distribution of the hens. The training emphasized things to consider for raising young hens, especially how to keep them warm in this high mountain area and how to keep the environment clean to avoid diseases. After the training, the project team was very busy, some were registering the numbers, some were counting chickens, and some were loading and unloading the young hens. The villagers who received the hens held them in their arms with smile on their faces. The clerical staff of Luo'en Village Shujke Zigui said: "Thank you to the project for caring for preschool children's families once and once again. The project had distributed egg layers earlier and the villagers raised the chickens very well according to the recommendations provided during the training. Now every family can collect eggs each day. There are still eggs left after the whole family has eaten. For the left ones, villagers will sell them in the market and buy meat for children to add nutrition. The project brings in new species to Luo'en Village, and provides trainings about new breeding techniques, which have changed villagers' traditional ways of breeding and increased their income."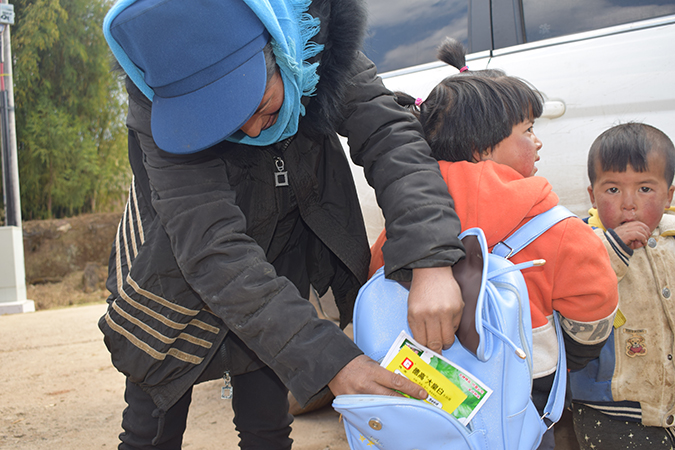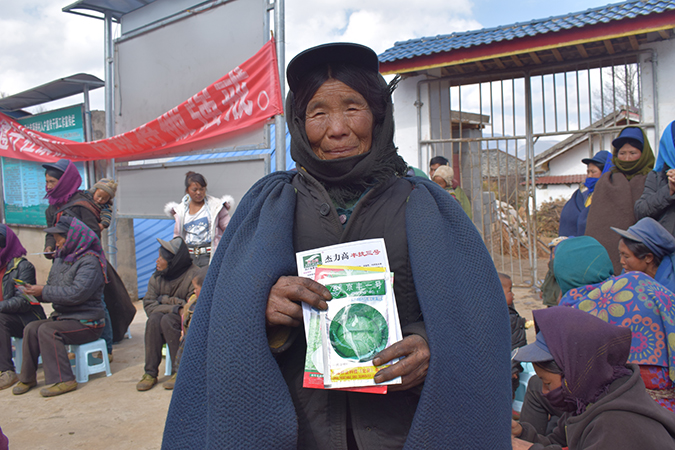 A villager received vegetable seeds

The project did not only distributed young hens to children's families, but also distributed vegetable seeds to them, in order to gradually changer their previous diet structure of mainly potatoes and increase children's vitamin intake. The phase 3 vegetable seeds were distributed to households with preschool children in Luo'en Village and Shougu Village, totally 196 households including 86 new ones. 4 bags of seeds were distributed for each households including lettuce, cabbage, Chinese cabbage and celery. Party Secretary of Shougu Village Mr. Weishi Lagui and the First Poverty Alleviation Secretary and all village officials actively participated in the distribution of the seeds. Project Manager Agen Riga and HPP sector advisor Sheng Xia explained the benefits of eating vegetables and emphasized the importance of changing living and hygiene habits, and changing previous diet habits to children's healthy growth.
Project introduction:
Sichuan Liangshan Yi Rural Community Comprehensive Development Project is a rural comprehensive development project funded by Kadoorie Charitable Foundation and jointly implemented by HPP Sichuan Office and Butuo Poverty Alleviation and Immigration Work Bureau. The project covers 1802 villagers of 462 households in Shougu Village and Luo'en Village of An'le Township, Butuo County. The project uses the new trinity model of "Foundation + Government + Public Welfare Organization" in the "Targeted poverty alleviation government framework" to improve local villager's income and life quality.
The project is funded by Kadoorie Charitable Foundation.
The article only represents the author's opinion, not necessarily the views of the donor.