A Record of Oyster Mushroom Planting by Farmers Green Action Clubs in Fengdu, Chongqing
Author: Li Xiaojun, Project Manager
It was the dog days in Chongqing with a temperature of more than 40 degrees in August, 2018. The heat made us nervous, but we still had to work: organizing farmers to attend day-to-day skill training and making household visits to find out farmers' needs for better training them.
The amount of rubbish has been on the decline with the supporting facilities from the government's targeted poverty alleviation efforts as well as day-to-day garbage sorting trainings organized by the Project Office. Nevertheless, heaps of crop waste, such as straw and corncob (corncob left after threshing), etc., can still be seen everywhere.
Once I came across on the internet an introduction of how Liu Zhongji, a farmer in Qianjiang District, Chongqing plants straw mushrooms. This got me thinking about "reusing waste". The raw materials needed for the cultivation of edible mushrooms are some agricultural production wastes in rural areas, which can be processed to edible mushroom nutrients. Therefore, I learned about the prospects of planting edible mushrooms through the Internet, books and periodicals, and field study. After that, I found that oyster mushroom is the easiest to plant, so we decided to start with oyster mushroom planting, thus the official start of edible mushroom planting.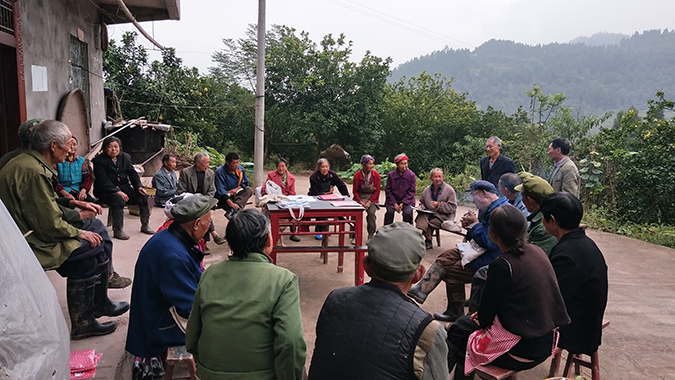 Holding Village Meetings
The Project Office held a meeting to discuss whether it is possible to plant oyster mushrooms. The raw material of one mushroom spore costs 2-3 Yuan, one spore could produce roughly 2.5 kg of oyster mushroom, and every kilogram of oyster mushroom averages 6 Yuan. Theoretically speaking, farmers can get profits. Later on, following discussions with the farmers and recommendations by the village committee, we organized 6 farmers to participate in the training of growing edible mushrooms. The farmers were led to visit Yu Deming edible mushroom plantation (specialized in planting oyster mushroom and agaricus bisporus) in Jielong Village, Fengdu County, and Luo Tongming agaricus bisporus plantation in Rensha Town. During the visit, six farmers discussed in detail with the planters on raw material requirements, technical requirements, follow-up management, sales and other aspects in planting edible mushroom.
Farmers were highly motivated in discussing the do's and don'ts of planting edible mushroom and sharing ways of implementation with each other. They all agreed thatliving in rural areas comes with a built-in advantage: sufficient fertilizer. Technical requirements have been partly mastered, and are yet to be gradually improved afterwards with enough labor force for subsequent management. However, marketing can be the most worrying issue because villagers have never been involved in marketing activities. If they cannot sell the edible mushroom they have planted, then the mushroom would be worthless.
In the end, two car-owning farmers were chosen to participate in planting oyster mushroom. The Project Office built greenhouses for farmers. Inexperienced in the first year, farmers bought oyster mushroom spores on their own, and 50% of the sum was subsidized by the Project Office. Farmers spent 10% of the first year's revenue in setting up a training center for farmers nearby to improve their knowledge of edible mushroom or the cultivation of other skills.
Greenhouses for Oyster Mushroom Planting
Environment Inside the Greenhouse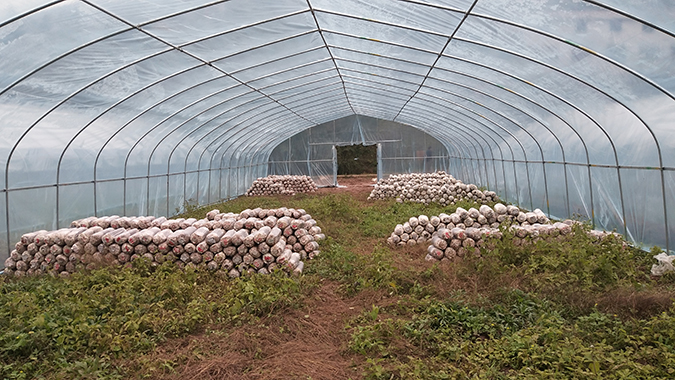 The first batch of oyster mushroom spores were delivered on January 7, 2019.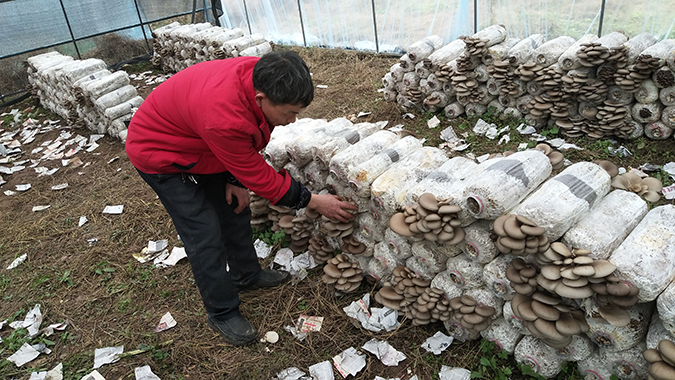 Check if the oyster mushrooms are in good shape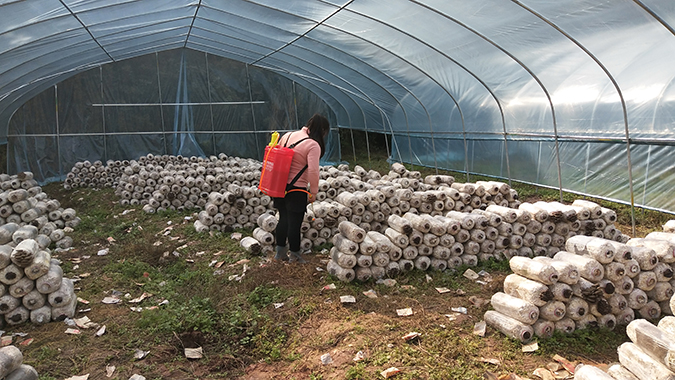 Water the oyster mushrooms
Harvest the oyster mushrooms
By January 19, 2019, the first batch of oyster mushrooms were up to standard for sale within merely two weeks. With excitement, I led the farmers to the greenhouses at 7 am, picked 2 boxes of oyster mushrooms, and took them to the entrance of Sanyuanchang Village. They earned their initial profits (sold out for 160 Yuan in less than 2 hours).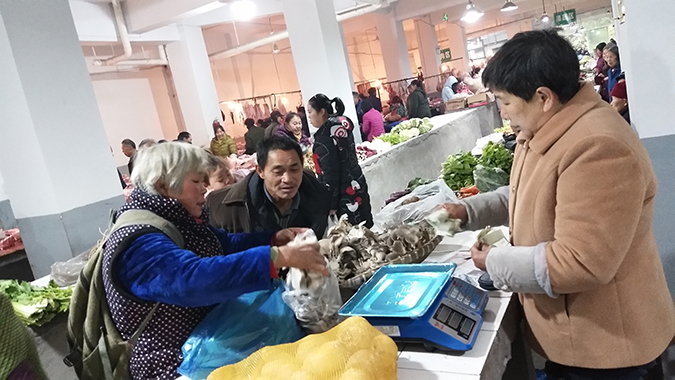 The oyster mushrooms we planted are sold in the market
The later stage ushered in the high yield of oyster mushrooms, with a yield of about 50 kg of oyster mushrooms per day. If the mushrooms are left not picked, their flowers would grow larger, which would not be so good-looking for sales. The farmers' own sales volume already lagged behind, so the Project Office had to seek out markets in all places. In the end, thanks to their efforts, three greengrocers in Sanyuan Town would buy our oyster mushrooms. It turned out that due to the lack of professional skills in management technology in our first attempt in planting oyster mushrooms, the color of the mushroom did not look so good (the mushrooms did not look pleasing to the eye, but their flavor tasted the same). We have learned from this sales experience that our varieties need to be further improved. It is not that our planting activity would be a success only by planting edible oyster mushrooms. Therefore, we reorganized trainings for farmers and invited experts to give on-the-spot guidance. After trial and error over a period of time, 5 schools around Sanyuan Town have decided to buy our oyster mushrooms so far, and our oyster mushrooms are sold to almost all of the markets in the towns of Liming, Luojia, Guansheng, Sanyuan, Peiguan, Tizi River, and Xuming Temple, with sales volume reaching a reasonable balance of selling what we have produced.
Agricultural products are abundant in the countryside, yet their prices in cities are relatively high. Why is it that only vendors can make money yet farmers can not? The next step of the project is to train farmers on how to sell agricultural products and organize them to sell their own farm produce. It would be better to earn a buck than save a penny. Such an awareness must be raised among farmers.
Project Introduction:
Farmers Green Action Clubs project in Fengdu, Chongqing is jointly implemented by Chongqing Representative Office of Humana People to People (Switzerland) and Poverty Relief Office of Fengdu County. The project covers 250 rural households in Luojiachang Village, Sanyuan Town, Fengdu County, Chongqing. Through promoting protective tillage measures, constructing impounding reservoir and giving all households access to water, as well as building garbage pools and installing solar energy, this project aims to conserve water and soil, supply sufficient water for residents and animals, and improve local sanitation levels. Meanwhile, by setting up Green Action Clubs, an information sharing platform among farmers is built and capacity building activities are arranged.
The article only represents the author's opinion, not necessarily the views of the donors.