Author:Donation Management Department.
With the booming development of technology, the laptop, Office software and e-mail system, which were very "rare" at the end of the last century, are not the showiest management tools any more - In this second decade of the 21st century, information technology has enough "confidence" to provide stronger support for management.

While Humana People to People, ever since its entry into China in 2005, has made its actual achievements on project scale - we are also longing to keep pace with today's information technology in order to further enhance the effectiveness of management. Normally, in our POF projects, the project leader, who is based in the county, has two ways of interacting with teachers that are scattered around the mountain villages. First, WeChat (the Chinese 'What's Up') or telephone, real-time but fragmented. Second, teachers regularly fill out pre-distributed "Lesson Preparation Books" in their work - which is systematic, but since teachers can only meet project leader twice a month, so there will be information delay. Therefore, we hope to develop an APP to realize the real-time and systematic interaction between teachers and project leaders.However, the high development cost of making an APP may not be what we can afford.
This "problem" has been solved now - from the Alibaba's "Greencode" matchmaking, Wang Junjie, a "Love Geek" from Xi 'an, started to develop an APP for us in October 2018. After hundreds of discussions, the POF project APP was officially put into use in fall semester of 2019.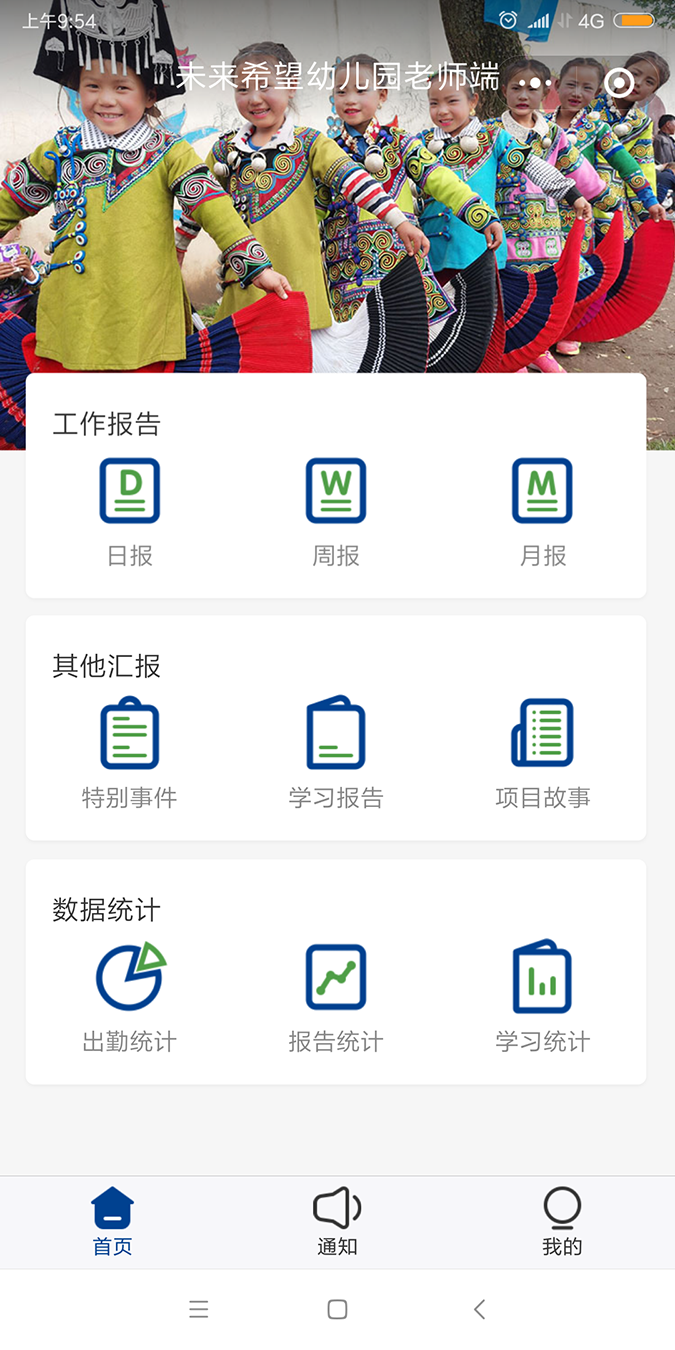 APP mobile interface
In order to better share the achievements based on all parties' cooperation, Alibaba invited Humana People to People to the 2019 APSARA conferenceas as a guest speaker to share our project, our achievements and our APP in a Public Welfare Forum.
After receiving the invitation from Alibaba, with many times of communication and coordination, we built a speaker team of Humana People to People, which included Michael Hermann, the Chief Representative of The Federation for Associations connected to the International HUMANA PEOPLE TO PEOPLE Movement (Switzerland) Yunnan Representative Office ('HPP'), Luo Ruhong, Project Leader of Humana People to People, also former POF Project Leader of Zhenkang County, Yang Xiaoqin, Teacher of Tangshangshui Preschool, Zhenkang Project and her student - also her daughter - , Li Wenjie. But our "Love Geek" Mr. Wang Junjie couldn't show up because of his tight work schedule - he "attended" the meeting by pre-recorded video.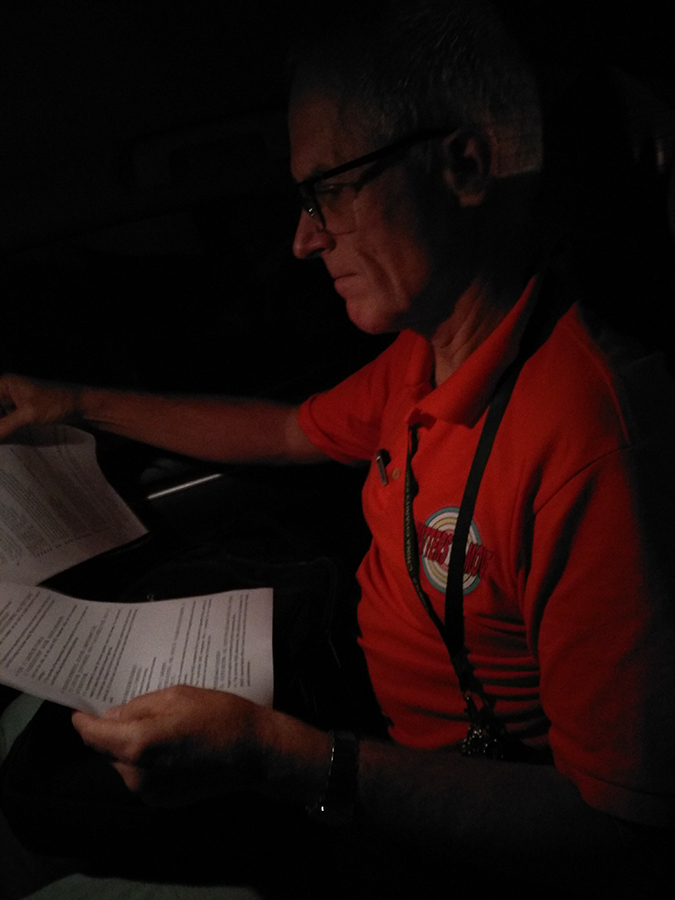 5 am on September 24th, Michael is in a taxi on the way to the airport, focusing on preparing his speech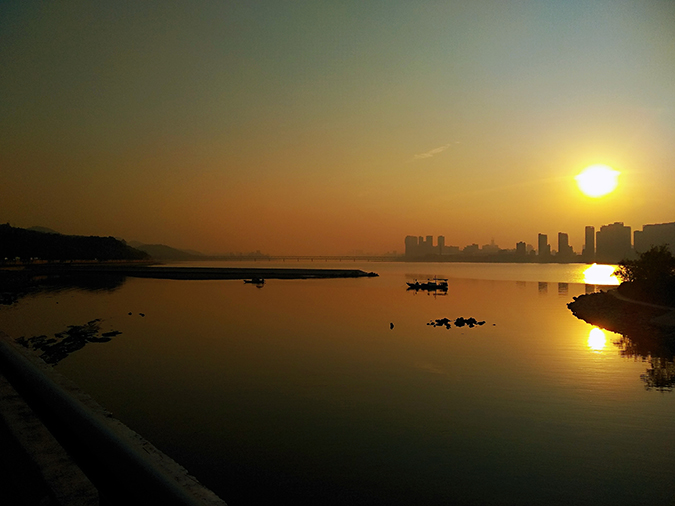 Early that morning, beautiful scenery of the Qiantang River
Besides us, the guests attending this Public Welfare Forum also include Sun Lijun, Alibaba partner and Director of Alibaba Foundation; Wu Zeming, Alibaba partner and President of New Retail Technology Business Group; Jiang Jiangwei, Alibaba partner and Vice President of Aliyun Intelligence; Hu Xi, Vice President of Ant Financial; Liu Xiangwen, GM of Strategy and Cooperation Department of Aliyun Intelligent Business Group; Xu Yongguang, Chairman of Nandu Public Welfare Foundation and Special Researcher of Counsellors' Office of the State Council; Qu Sixi, Representative of the United Nations World Food Program in China, and some 200 other delegates from all walks of life.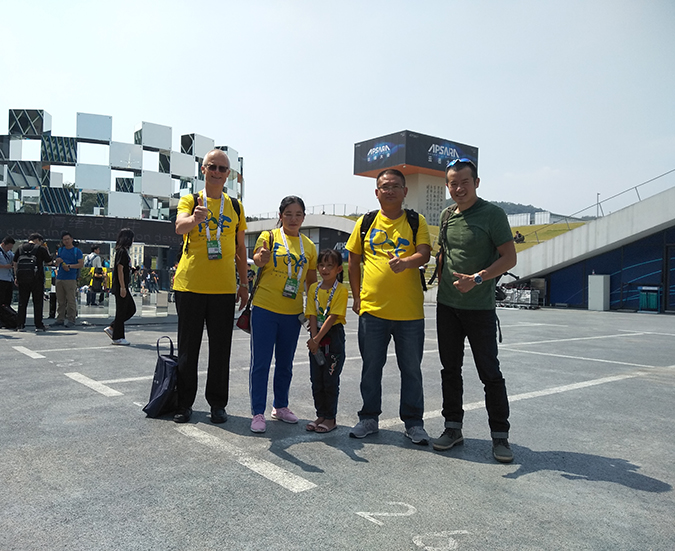 Speech team, from left to right: Michael, Teacher Yang, Wenjie, Luo Ruhong and Sun Hairuo
2pm on September 25th, 2019, Humana People to People stepped on the stage as the first speaker of the Technology Public Welfare Forum. Michael kicked off our speech with a solo song based on the famous melody "Kangding Love Song".
"Kangding Children's Song"
Your adulthood can be seen when you're 3 years old
Your old ages can be seen when you're 7 years old
This is ancient knowledge
Also, a conclusion of the West
Relying on various science
The early childhood education is
The basis of lifetime learning
It is our common responsibility
To care about the children in remote mountains
A nation prospers when the youth thrives
Then the nation can shine the world
The early childhood education is
The basis of lifetime learning
His song was loud and clear, the meaning of the lyrics was applauded by the audience
After that, he played a video about the POF project of Zhenkang County.
After the video ended, our core team - Teacher Yang and Wenjie came to the stage. Firstly, Wenjie introduced herself and her life in preschool to the audience – "I don't have to recite articles or do homework, I can play with many toys in preschool". Her lovely but truthful words made the audience laugh with kindness – preschool doesn't equal to pre-primary classes in primary schools. The early childhood education should avoid leaning too much towards primary school education - which, however, is not agreed on by all adults and parents.
Wenjie is telling her own stories
Wenjie's mother, teacher Yang also shared her life stories with us – before the preschool was founded 9 years ago, she was just a normal villager without any high education level. But with Humana People to People's project, she became a village teacher for the last whole 9 years, in total, she has taught 148 children from the village. She ran into many difficulties in this duration, but she always has chosen and will choose to stay, for the children and the parents!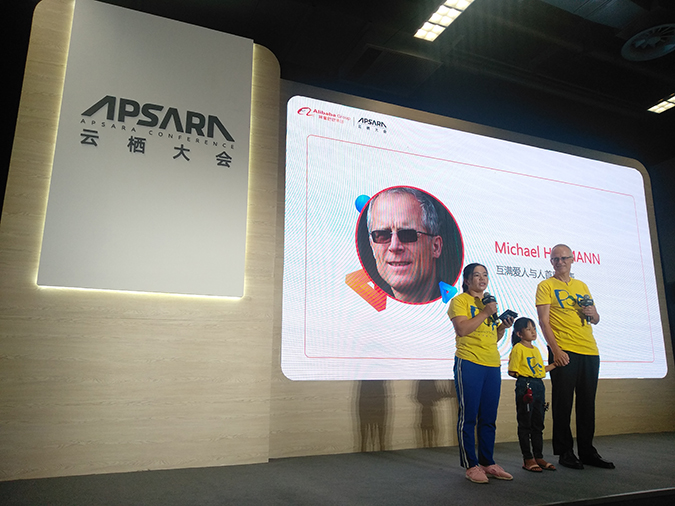 Teacher Yang is sharing her story
There is no project operation without the management staff who is stationed in the counties. Luo Ruhong, Project Leader of Zhenkang County for 8 years, (we call him "Big Luo"), shared with us on the stage his main duties in the project – teachers' training, M&E and coordination of all relevant parties. In addition, he expressed his feelings about the project - "Although I have left Zhenkang, I still go back occasionally." "I have been to so many villages in so many years, although every journey is full of difficulties, but every time when I enter the preschool and see children they are learning so happily, all my hard work has paid off!"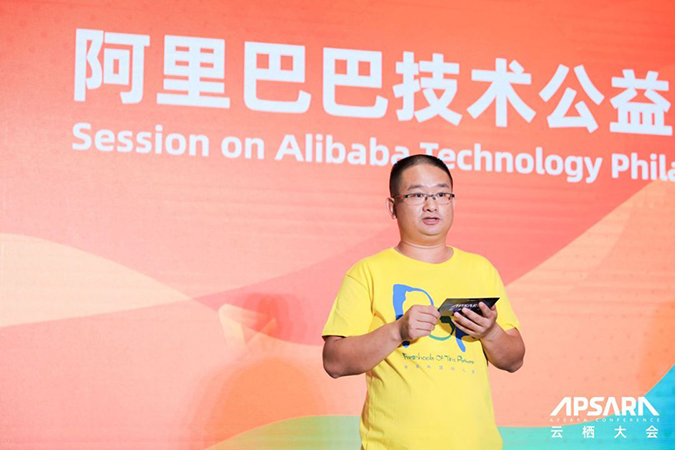 "Da Luo" is sharing his story
After that, Michael used a PPT to help the audience understand the concepts and models of our POF project. He also introduced the development process, main functions and usage status of the APP.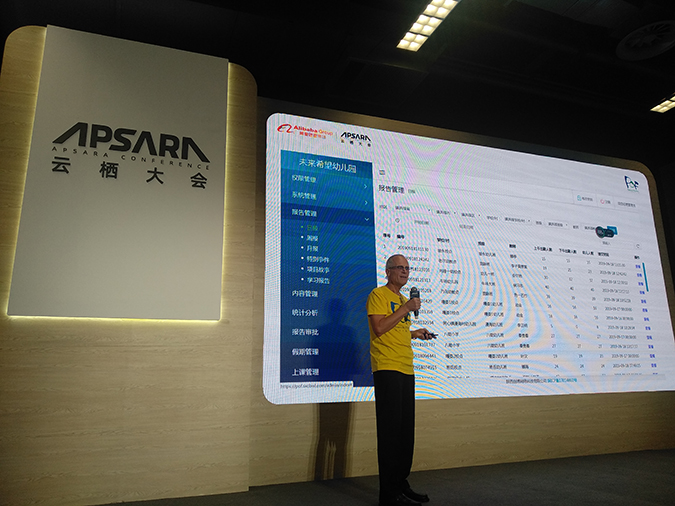 Michael is sharing the APP functions
"Love Geek" Wang Junjie's video was the last important part of our sharing. Mr. Wang not only introduced the development background and process of the APP to the audience, but also told his own feelings - "Public welfare needs the support from technology, which is also a way for geeks to join public welfare, and with technology, I hope we can have more opportunities to help more people in the future".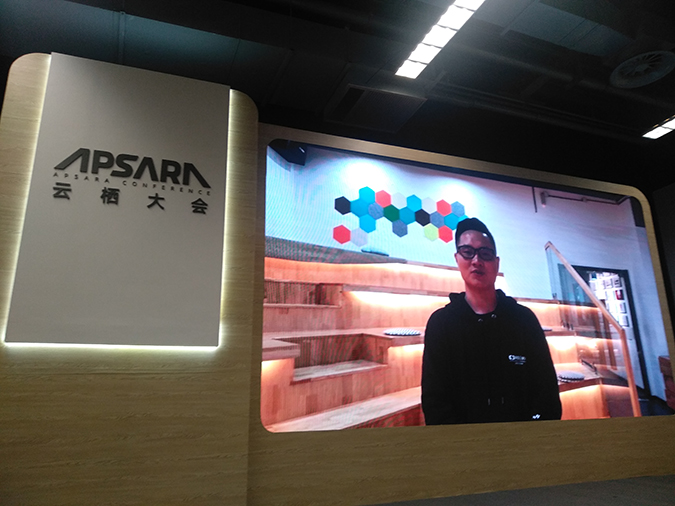 "Love Geek" Wang Junjie remotely attending the Public Welfare Forum
The audience was deeply impressed by our sharing – with this 20-minutes of "Touching Moments", people know about who is Humana People to People, what we are doing, what we have achieved, and what technical public welfare support we got, also, what is our future direction.